"I believe there comes a time, when everything just falls in line, we live and learn from our mistakes, the deepest cuts are healed by faith..."

Credit the above lines to Pat Benatar in her exhilarating single from 1988 entitled "All Fired Up". In fact, I never knew it was recorded so long ago until I just looked it up a moment ago. (I was guessing 1997!).

Yes, admittedly, Pat Benatar, as influential as she was in her prime, seems an unlikely source for running inspiration. I do proclaim, however, that it's one of the best motivating running songs I have ever heard. It was the anthem to my first marathon in Pittsburgh on May 6th, 2001. I pulled it out of the archives, thrilled to find that it pushed me at a torrid pace during a wonderful 15-mile run today.

(Editor's Note: Another adrenlanine spark is "Best Of You" by the Foo Fighters. Plug it into your playlist and let it fuel your next long run, and you'll know why.)

I had planned to take it easy over the next month or so. My wife tells me that it is OK to just relax and not push myself all the time. I know she is right.

Yet, yet there is a fire in the belly, a fuel in the furnace of the soul to celebrate my competitive spirit.

I tried to channel my energy into fictional writing, which a skill set that feel is lurking beneath the surface, as deep as it may be. This month is National Novel Writing Month. I cranked out over 8,000 words in 6 days and decided I wasn't happy. I enjoy writing. However, I found trying to write a 50,000 word novel in a month with little preparation overly daunting. I am thinking the route of non-fiction is what I fancy.

My career is also a healthy source of that buzz of challenge that I crave. I am about to deliver the final report from my work in China tonight at 2:00 AM on a conference call. Yes, you read that right. 2:00 AM Monday morning.

How could that be, you ask? Our top dog is in London and the other Exec are in Asia. Conveniently enough, this is the only available time for the leadership team and so the lowly schmuck in the States has to pay the price.

After I knock 'em dead on this call, I will re-focus my attention to my running endeavors.

I am preparing for my next marathon commitment in February. I keep Boston in the distant view. However, I need to respect the love of my life's concerns about our firstborn coming in early may. So I am unable to commit to the April 21 classic. (OK, maybe I already have the flight and hotel lined up for Boston, just in case the doctor says she will be really late!).

In the interim, I am gearing up for another marathon quest, for which there is 14 weeks to fulfill the dream. Check out the following marathon details and reviews here. It seems utterly foolish to run a marathon on a one-mile loop in the depths of winter in Ohio. However, there is an element of intrigue for me.

Here are the stats from today's run. I cranked out 37 miles this week, my best ever week for the second week after a marathon. I feel strong.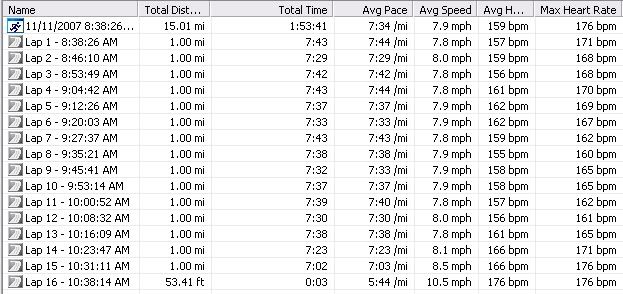 One Final note: I set a goal to run 1,750 miles total in 2007. I am please to report I surpassed that mark this week. I am contemplating at run at 2,100 miles in 2007 with my latest marathon planning. Run onward...