It's been a hectic couple of days since the finish of the marathon. I decided to take some extra time to reflect on the marathon. Here's the story…

We bucked the norm and stayed out in the suburbs, which worked out well. I'm naïve and didn't realize the tradition of the bus system initially. Anyway, we rolled into Hopkinton State Park at around 7:20AM to find ourselves, well, early. BAA does a great job with the shuttles. There were dozens of empty school buses and only a few cars there in the lot.

The rain was steady and the road to the start area was nearly flooded. There was road crew draining Route 82 on our way.

In Hopkinton, Jen and I walked what seemed like a mile to athlete's village, dodging puddles and cursing mother nature and her fricken' nor'easter. My feet were sopped before I ran my first step of the day. I wasn't sure what we would do since I knew the village was for runners only, but Jen walked right in to the tent with her jeans on with me.

The tent area looked like a refugee camp, all of us taking cover from the wind and rain. Many of the early birds were spread eagle on the ground stretching and taking naps. The surrounding field that had the port-o-johns was a swampy, soupy mess. All of us were gearing up for what were touted to be the worst Boston Marathon conditions in history.

The anticipation for me was unnerving, especially given the conditions and the uncertainty of what was to come. I just wanted to START. Runners smarter than me had extra shoes and plastic bags wrapping their feet. I wish I was that bright. Next time…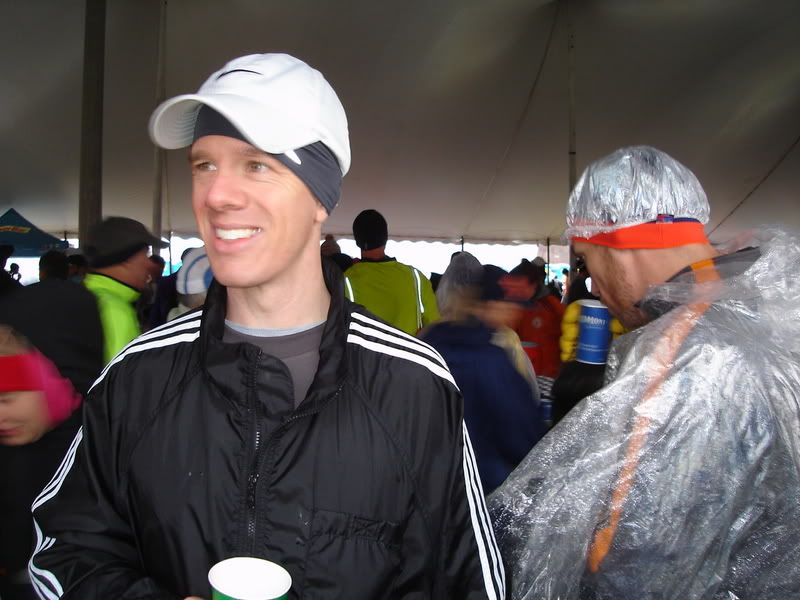 Finally, race time approached and the weather was tame. Sure, there was steady misting, but not the winds and the lower temps that were promised by all the meteorologists.

I told Jen I was planning to run steady 8's. What difference would 3:20 or 3:30 make? I knew I didn't have the mileage in to run much more than that. Plus, the weather… and this was about the EXPERIENCE!

Dressing was difficult, but thought I was dressed right for the conditions. I wore running tights. This decision was difficult, but the "RealFeel" was supposed to be in the 20's around 11AM. Yes, the forecast was that temps would drop throughout the race and the winds would pick up. I wore two layers and an old Addidas running coat that I said I would toss if I warmed. It is perfect to shield the massive downpours I expected.


Finally, at 9:45, I drifted into the 5000 corral with pride. The gun went off and it was a stampede of runners on the narrow Hopkinton streets. What a thrill to know that most runners around me were faster than me, and that I was somehow mixed in with them.



The downhill pushed our pace exactly as I imagined it would. I shed the jacket and put it onto my waist at mile 2.5. I didn't want to ditch it since I thought it would get colder. I ended up wearing it on my waist 'til mile 17, when I saw my wife.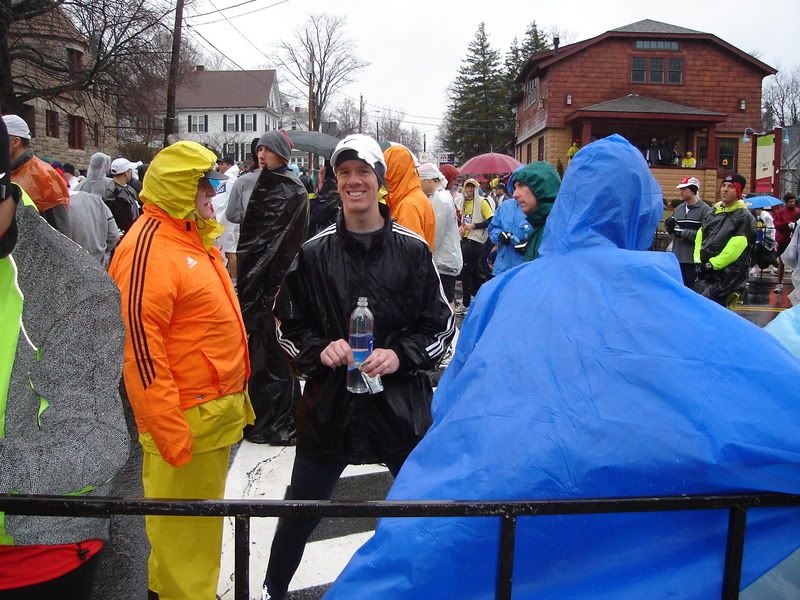 Wellesley was without a doubt one of the highlights. At mile 12, I heard a distant ruckus that sounded like a World Series game taking place where a homerun had just been hit. It was the girls of Wellesley instead. I saw signs of "Kiss Me for Luck!" and "You're Sexy!" and "Take it OFF!" and flirted with all of the chicks as I ran by. I felt like a rock star.

Fast forward to 17, when I started what I thought was an early fatigue for me. But, I was hanging in. I saw and kissed my wife and braced for the beginning of the ascent. I'll be honest and tell you I didn't know which hill was Heartbreak. At 19, there was a modest climb, and I couldn't remember where I was. I thought, is this IT?? I then hit 20, and there it was. I saw many around me stall, but I was able to muster a low 8 pace up the hill.

Once I hit the top, I was pumped. But I still had 10k. It wasn't until mile 23 that I really saw the crowds thicken. Getting into downtown was incredible. We ran right along side the "T" and I saw spectators waving at us through the windows.

The payoff was rounding the corner in Copley Square and seeing the BOSTON MARATHON banner in the distance, signaling the finish. I was so damn ecstatic. I was doing cheerleader moves with my arms. This finish was like no other. There was a mile of people 5+ deep along each side of the street screaming, waving and cheering.

I was choked up as usual when I got into the chute and immediately began to freeze. I wanted my warm clothes and to find my wife.


1 - 7:30
2 - 7:27
3 - 7:38 – moved jacket to waistline
4 - 7:38
5 - 7:58
6 - 7:43
7 - 7:44
8 - 7:44
9 - 7:44
10 - 7:49
11 - 7:50
12 - 7:38
13 - 7:45 – Wellesley College scream tunnel
HALF – 1:41:03
14 - 7:44
15 - 7:55
16 - 7:42
17 - 8:28 – Ascent begins, Pause to kiss wife and hand off jacket
18 - 8:07
19 - 7:59
20 - 8:11
21 - 8:22 – Fighting off the heartbreak!
22 - 7:43
23 - 8:03
24 - 7:58
25 - 8:14
26+0.2 - 9:42 – Final 1.2
FINISH – 3:26:27

After the debacle of getting my gear off the bus (that was the one foul-up of the event, all else was solid), we were ready to head back to the hotel. We didn't get back until about 4. I took a shower and was ready for a nap.

I came out of the bathroom to learn the news of the VA Tech Massacre. I was incredulous. I always thought I would remember this day as my first Boston Marathon, but now we all will remember this day in infamy as the worst massacre in US History.

When I heard the news, I remembered the tears of joy I had shed when I crossed the finish line with thousands cheering. I would later shed a different kind of tears on the same day. I thought of the 32 innocent people that were senselessly murdered. I wondered why I have been able to chase my dreams, which include running this incredible race, having a career and a wife and a great life... And why were these kids chosen to be in the path of such tragedy with their whole lives ahead of them? I haven't figured this out as yet…