Chad and Andrew both weighed on Thursday's 5k race results that earned me the cool little piece of hardware seen here. I was somewhat dismayed that I had a meltdown in mile 3 and couldn't hold to break 19 (odd thing is that my 3rd mile felt better than my 2nd as I was running.) Basically they told me I need to put in higher mileage and focus on tempo runs - and to not sweat an early 5k race.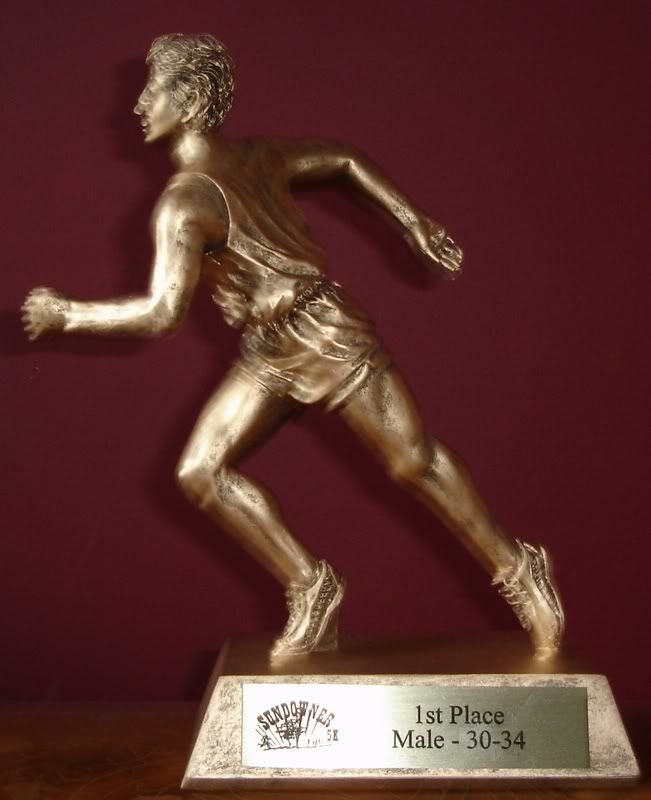 Thanks, guys.

What they are saying makes sense. I think what got me concerned was that I ran a 3:10 5k equalivalent around this time last year, which was right on track for my goal. With the 2007 goal at 2:59, I had hoped to be further along. My mileage is definitely higher - with seemingly only marginal improvement. Much more work to do, I guess.

Another factor: I weighed in at 175 on Thursday this week; the day of my 5k PR. This is about 5 lbs heavier than I was at this time last summer. As Amby Burfoot pointed out in his recent RW Article, "there's no denying that healthy runners will race about two seconds per mile faster for every pound they lose." This 31 seconds would have put me at 18:50 on that 5k!

My goal is to be 169 lbs on CDC race day on Aug 12th. I will then plan to run a sub-1:27.

I finished the week exactly on target at 46 miles. I knocked out a solid 15 yesterday at 7:36 pace average. We had nice cool weather.



Our CARA training group has a speed work session every Tuesday night. You'll see in this week's plan that I'm working it into this week's schedule.


I am about to attempt my first ever 60-mile week. Check out the plan below.

Preliminary plan for 7/16 week

Mon 7/16 -10 general aerobic
Tue - 6:00 AM: 4 gen aer.
6:30 PM : 3 X 1200m @ 10k pace + 1 min rest btw + 400m at 5k pace - 3 min rest. Repeat 3 times. Then 1 mile at MP. Total of 6 after warm-up/cooldown.
10 total for the day.
Wed - 5 recovery (8:30-8:45 pace)
Thu - 10 miles gen aer
Fri - 5 recovery (8:30-8:45 pace)
Sat - 21 long - run with 8 pace group - target 7:45 pace
Sun - Rest

Goal mileage total: 61 miles